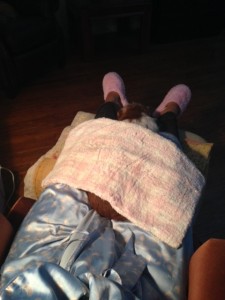 By Vicki Hughes      Posted October 25, 2013
My best friend introduced me to one of the most comforting aspects of my life, the joys of a heating pad. Many years ago, I kept hearing her talk about using her heating pad, and this happened a lot. Finally my curiosity was piqued. I asked her, "How often do you get your heating pad out?" She looked at me quizzically, and she said, "I don't get it out, it stays out."
That was when I realized I had an antiquated heating pad belief system. I had adopted the "good china" approach to using my heating pad. Rather than keep it out and use it all the time, I had it wrapped up, with the cord tied around it, in the deep, dark recesses of a cabinet in the bathroom. I only pulled it out for special occasions like cramps, strained muscles or a back ache. (Not that these are really special occasions.) But I was not inclined to keeping my heating pad close at hand.
Mistake, colossal. After my friend opened my eyes to the possibilities, I went to the cabinet, and pulled out my heating pad. I looked at it, and then realized one reason I had possibly relegated it to the cabinet was the tacky blue cover. So I sat down with some fabric, and made my heating pad a cute cover with flannel on one side, and chenille on the other. Then, I slid my heating pad into it's cozy new outfit, and turned it on. It suddenly had charm. That was when I realized what I had been missing. I became a heating pad convert. I no longer save it for "special occasions," it lives in a basket right next to my favorite chair. My oldest, smallest dog is a fan of this development. As the weather turns into what I think of as Heating Pad Weather, he starts giving me the eye. He sort of cocks his head and waggles his eyebrows at me. If I don't catch on fast enough, then he does some pathetic shivering to get his point across. Then as soon as he sees me turn it on, he launches himself onto the ottoman, snuggles in between my calves, and waits to be draped with the Mantle of Warmth. (His words, not mine)
And so it has begun. This third week of October has returned us to Heating Pad Weather. If you are saving yours, I beseech you, get that puppy out and keep it close by. Give it a snappy makeover if necessary, but for Pete's sake, use your heating pad. You can't take it with you.
© Vicki Hughes 2013
[contact-form][contact-field label='Name' type='name' required='1'/][contact-field label='Email' type='email' required='1'/][contact-field label='Type "Yes" below to get Hell-Bent On Happy sent to Your Email!' type='text'/][contact-field label='Website' type='url'/][contact-field label='Comment' type='textarea' required='1'/][/contact-form]