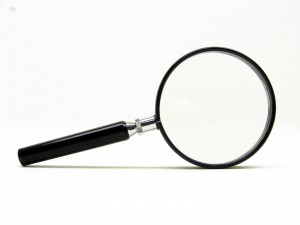 By Vicki Hughes     Posted March 31, 2013
I had a thought provoking conversation with a friend a few days ago. She was curious about the sea glass jewelry I make from the softened glass fragments that I find here on remote Fairhope beaches. She asked me, "How do you find sea glass? I've lived along beaches for years and I've never found any." She clarified, she wasn't after my secret honey holes, she just wondered if there was a trick to it.
I told her, "I honestly believe it's a matter of intention. I expect to find it, and I do. I think you have to train your brain to see it. But once you learn to see it, you can't un-see it anymore."
I explained how, in the beginning, when I took John with me the first few times, he didn't find any sea glass at all, only a few cool rocks. He'd hold one up hopefully, and ask, "It this glass?" I'd shake me head, "Nope, keep looking." But now, he is a glass finding machine! We never go to the beach to "pick glass" and come home empty handed.
Sometimes we don't see certain things because we've convinced ourselves that seeing them is too hard. I feel this way about four leaf clovers. I look down at a patch of clover, and I'm all, "There is no way I will ever be able to find one, specific, odd-ball clover with a genetic mutation, in all of THAT!" And apparently I never will. Not with that attitude. Do yo know how many four leaf clovers Momma has found? Me neither, but it's a lot. I try to be happy for her, but I'm secretly jealous. Don't even get me started about her winning drawings and raffles.
I believe we all see what we are looking for, that which we are focused on. It behooves us to look for what we actually want. We get results when we stay focused on something, and allow a little time to pass so the results can show up. It takes some time for results to appear, and we short circuit the magic if we stop looking fifteen minutes into the game.
This explains why I'm not very good at fishing. I quit too soon. If a fish doesn't jump on my hook within the first few minutes, I get bored and assume there are no fish, and give up. John on the other hand, has learned the art of waiting. He knows they're out there, and he patiently waits for them to get their lunch break and stop by his line for a snack. He's catching fish which don't exist in my world, and I'm wandering around the shoreline, doodling in a journal.
We're all anticipating something, positive or negative. We will get confirming evidence for whatever it may be, and then we will see more, and more, and more. We look for people to be kind and helpful, or for them to be selfish, annoying jerks. We look for bills, or we look for new sources of income. We look for disaster or opportunity. What we look for has an uncanny way of showing up.
A few days ago, I started looking for idiot drivers, and pretty soon, they all showed up! Magic. It was a stunning reminder of my role and responsibility in the creation of my reality. All of the good drivers didn't evaporate when I got fixated on the crappy drivers, but I was no longer able to notice the good drivers, only the clowns in cars. Suddenly, I was seeing the ones that were weaving, and nearly rear ending me, and the ones who sat like stones in front of me at green lights, the ones who suddenly wanted to cross over into my lane as if I was invisible, "Hello?"
We're all focused on something. The question is…what?
What would you like to tune into that would make life a little happier when it starts showing up?
© Vicki Hughes 2013